About this item
1. Automatically perfect for individuals with arthritis or hand pain, requires no Manual labor.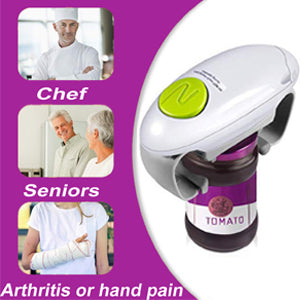 2. Effortlessly opens cans of any size Just adjust to fit at the push of a button.

3. Energy efficient: This Electric Jar Opener uses very little energy (uses 2 pcs AA batteries)

4. Pact: compact and versatility in 1 user-friendly kitchen device.

5. Size: 6. 8 inches long; weighs 0. 80 lbs.
Convenient and easy to use
Automatic jar opener for people with arthritis or hand pain, no manual labor required, seniors and chef.

Just press the button to open the jar completely automatically, while fixing the lid with a magnet to avoid confusion.
Special highlights: After opening, the jar opener will automatically release the jar lid.
The jar opener uses the latest technology, comfort and luxury is the ideal we are after.
Using step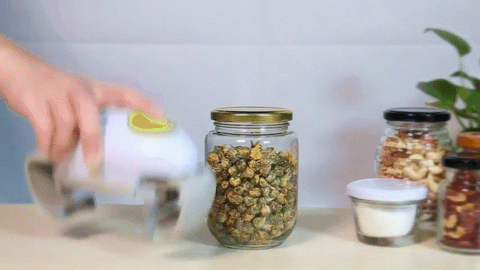 Step 1:Remove the paper or plastic neckband seal from the Jar.
Step 2:Move the rubber grip of the Outer Jaws all the way down.
Step 3:With the Jar on a flat, not slippery surface, place your Automatic Jar Opener evenly on top of the Jar.
Step 4:Press and hold the Button. The Outer Jaws will begin to move in. Release the Inner Jaws begin to move.
Note: DO NOT put the fingers near or in the jaws during the operation process. To reset the device, press the main button once. Avoid contact with any of the moving parts during operation. Keep hands, hair, jewelry, clothing, and utensils away from the moving parts to avoid injury and/or damage to your Automatic Jar Opener.
Step 5:The inner Jaws will grip the Jar Lid and then the Outer Jaws will resume their movement to hold the Jar securely. Then the Inner Jaw will rotate to open the jar lid.
Step 6:After opening the lid, the jaws of your Automatic Jar Opener will return to their original position and stop automatically.
Warming Tip:
1. Jar lid opening size rang: diameter 1.2"-3.5"
2. Jar body opening size rang: diameter 1"-3.5"
3. This Jar Opener is suitable for regular and vacuum-style glass screw-top jars and intended for household use only. Any other use is not recommended.
4. Do not use the Jar Opener on plastic jars.
5. Do not use the Jar Opener to open jars with steep curves, or irregular shapes where the jaws grip.
6. Do not use the Jar Opener if there are any signs of defects on the jar lid or chipped glass around the jar.
7. Always place the jar on the flat non-slippery surface.
8. Remove any safety seal on the jar before using the Jar Opener.
9. To prevent toppling and spillage when opening small or tall jars, please secure the jar with one hand and gently hold the Jar Opener with your other hand.