Cork diameter range: 20mm-24mm
Cork height no more than 44mm
Inside diameter of bottle mouth 17.5mm-23mm
Outside diameter of bottle mouth no more than 35mm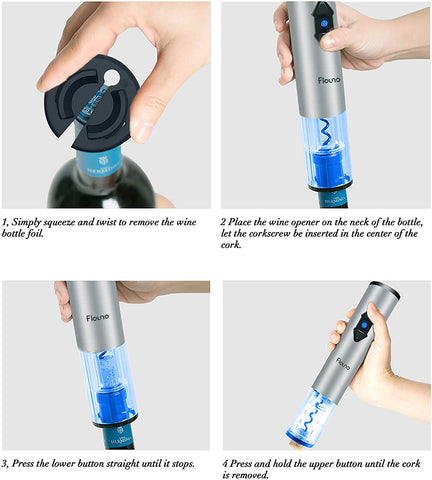 Simple operation: Every time we gather together or face a meticulously prepared dinner, wine is always indispensable, how can we be stopped by the cork? Just press and hold a button for 6 seconds, you can open wine bottle easily and quickly without hassle of pulling, twisting or broken cork pieces.
Reliable product: The Powerful motor and high-precision gears greatly improve the accuracy of the drill to align the cork and the smoothness of exiting the cork. Ensure the rapid opening of wine bottle, enjoy wine instantly.
Excellent design: The bottom of the bottle opener adopts a transparent pc shell, and the humanized design makes the whole process of bottle opening clearly visible. During use, the LED lights up blue light, which can provide convenience for use under low light conditions.
Professional complete kit: Includes an electric wine opener, a vacuum stopper, a wine aerator pourer and a foil cutter. The complete set meets all your expectations and is ideal for red, white, rose and other wines.
Install the batteries easily
Rotate and open the battery cover as prompted by the icon.
Install 4 batteries (not included) into the corkscrew according to the "+" and "-" icon prompts.
Perfect gift for any occasion: Birthday, Anniversary, Christmas, Thanksgiving, Mother's Day, Father's Day, Valentine's Day, Graduation and more! This exquisite gift box and complete kit make it a nice gift for wine lovers.