Mini Hands-Free Electric Can Opener for Individuals, Arthritis and Housewife
Smart design: It is easy to use, it can start opening the can at the touch of a button and stop automatically when the task is completed. It works with cans of all sizes with ease (excluding irregular-sized cans). After using, turn off the power.

Innovative technology: With the latest technology, the can opener cuts the inner side of the lid safely, it keeps the can lid with smooth and perfectly sealed edges which allows you to preserve your unfinished can food. The product requires 3 AA batteries to function (batteries are not included).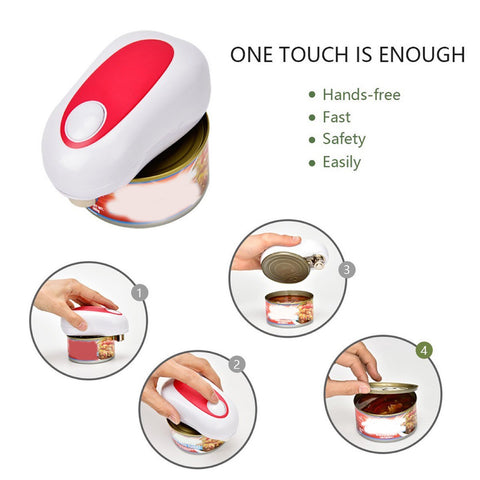 Made of durable, safe and solid ABS and alloy steel; wear-resistant accessories; safety grooves and sliding gears help to prevent accidental bruising of your fingers.

Easy to clean: no need of water for cleaning; stains can be wiped off with clean, damp cloth.

Comfortable and portable: It is compact and comfortable to use. The product is friendly to both left-handed and right-handed users and seniors with arthritis. It is easy to clean, simply clean it with a clean wet cloth, do not rinse it. It can be conveniently stored in the kitchen drawer. It is the top choice for your outdoor parties and family kitchen tools.

Professional safety electric can opener is an ideal tool for all dining rooms and picnics.