Are you looking for a mini heater that's easy to carry around with a handle? Our Portable Electric Room Heater with Tip-Over and Overheat Protection has a 6-foot long cord and 2-prong connections for indoor use.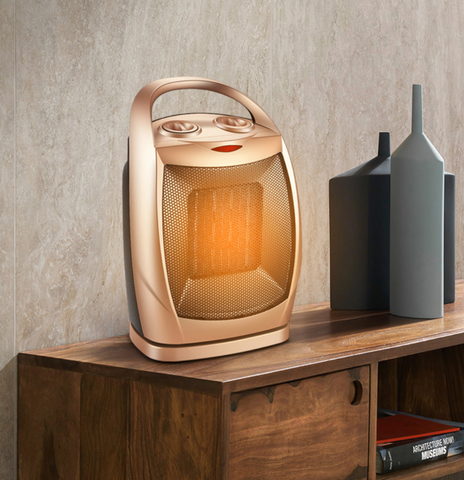 Features
Safe - The heater is made of a flame retardant material to keep you safe. Tip-over protection ensures that the heater shuts down when it's turned over. Making this heater ideal for homes with children and pets. Overheat protection automatically turns the heater off when the radiator is overheating.
Energy Efficient Heater - With PTC Ceramic Heating Software and a High Speed Ventilator, this heater can heat up areas  quickly and efficiently. Helps to save on your electricity costs by heating up required small spaces instead of heating the entire house.
Easy Control - To switch the machine on, simply click the on button. "I" is used to produce heat at 750 watts, "II" generates heat quicker at 1500 watts, and "Fan" blasts out cold air. The adjustable temperature range is 0°F-158°F. The heater can be turned on and off based on if the room temperature meets the temperature setting of the heater.


Package Content
1x Portable Electric Room Heater with Tip-Over and Overheat Protection
Specifications
Item Weight: 3.2 pounds
Product Dimensions: 6.2x7x9.2 inches
Power Source: Corded Electric
Shipping Information
FREE International Shipping: The LED photography studio light box will be packaged and shipped within 5 days of order. We do ship worldwide! Please be patient and note that delivery times will vary depending on your location. Majority of countries will have the large photography studio LED light box delivered within 2 to 5 weeks!
Our Guarantee
We truly believe our products have made everlasting impacts all across world and we fully stand by our products. You are the reason why we're here today, so we want to give you a risk-free 30-day guarantee for all of your purchases.
If you don't have a positive experience for any reason, we will do whatever it takes to make sure you are 100% satisfied with your purchase.
We have 24/7 Email Support Team that is always ready to help. Please contact us if you need any sort of help or even just a listening ear.