FreshSeal™ Automatic Food Vacuum Sealer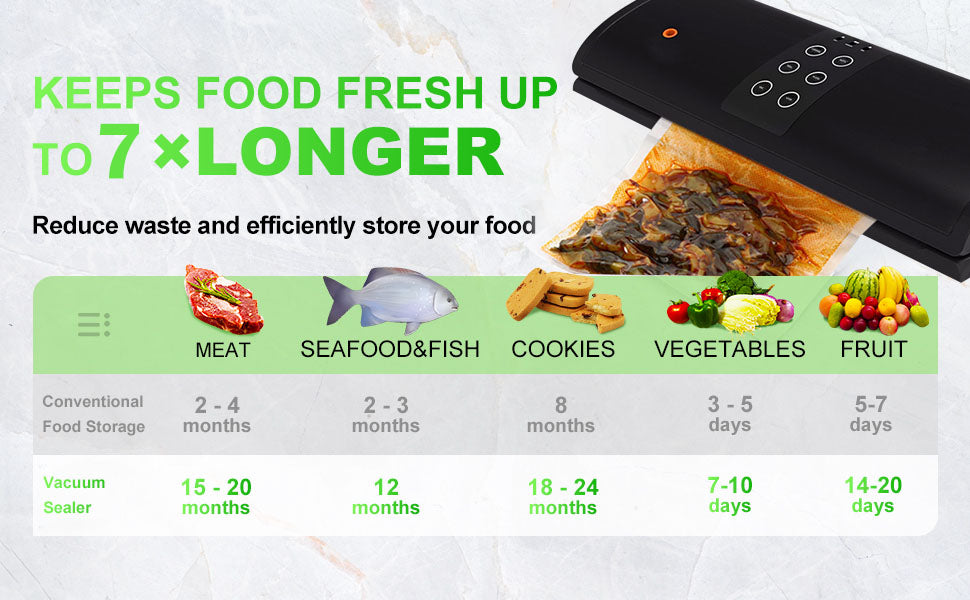 FreshSeal™ Automatic Food Vacuum Sealer has a more powerful and quieter motor that can generate up to -70KPA of suction, which is very suitable for food preservation. FreshSeal™ Automatic Food Vacuum Sealer is your best choice. If you want to extend the shelf life of your food, it can save you up to 1988$/year. Compared with traditional storage, vacuum-sealed bags form a physical barrier between food and bacteria, thus extending the shelf life.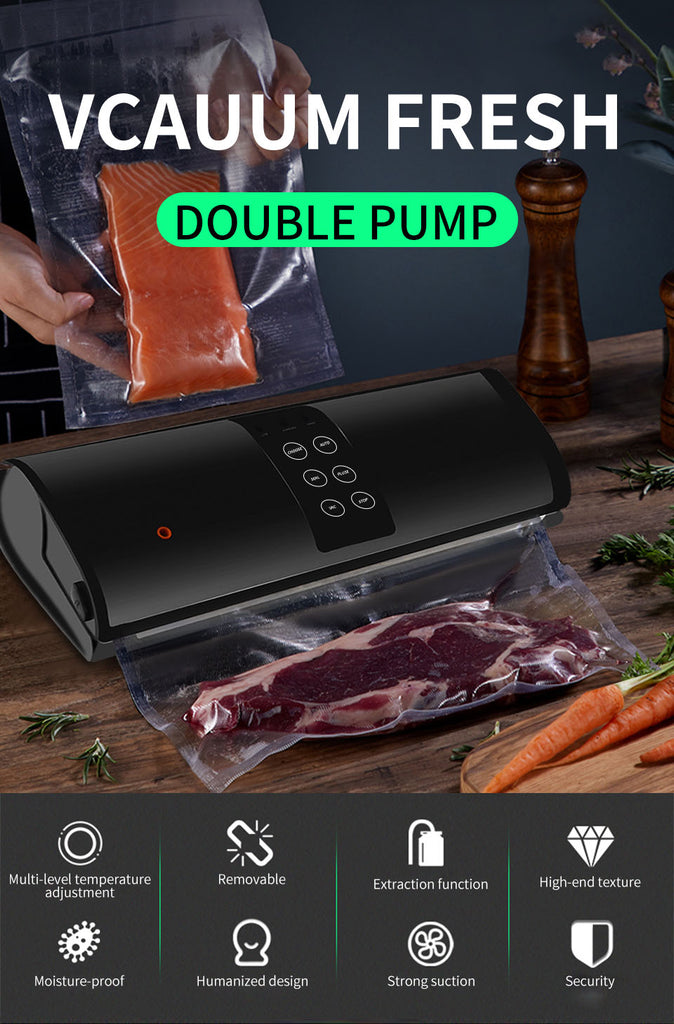 FreshSeal™ is the ultimate vacuum sealing machine combining a space-saving design with cutting-edge technology.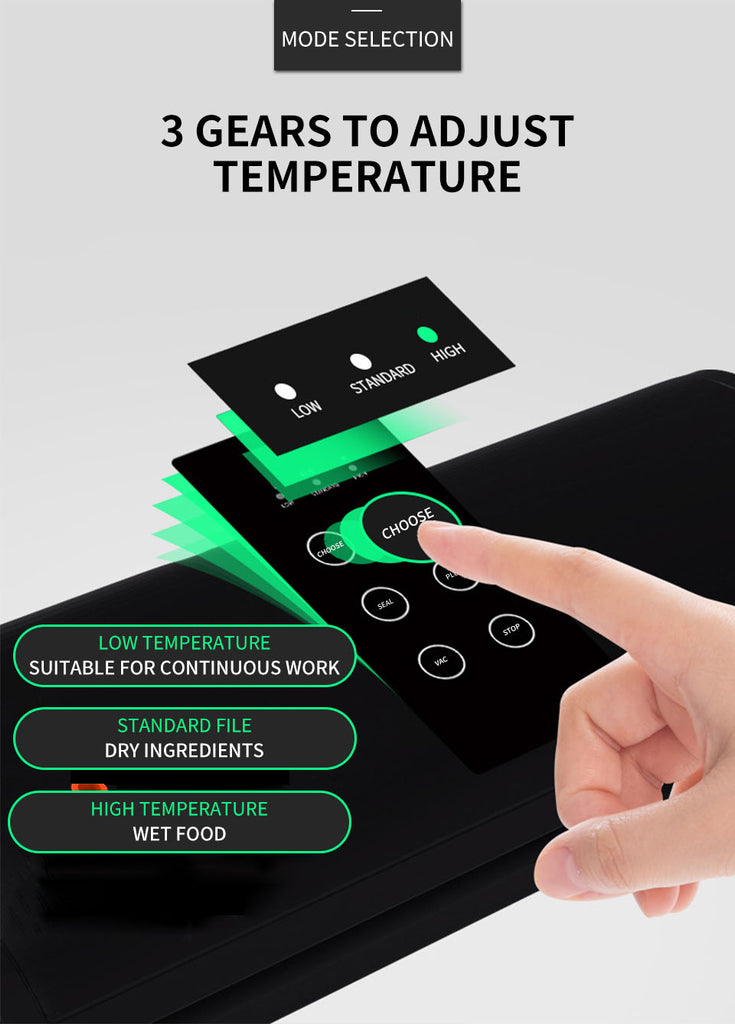 【Three levels of temperature adjustment】Suitable for both dry and wet powdered and oily ingredients, the fresh-keeping experience is upgraded. More detailed vacuum mode selection for different food material characteristics (low-temperature range: suitable for continuous work, standard range: dry food materials, high-temperature range: wet/oily food materials).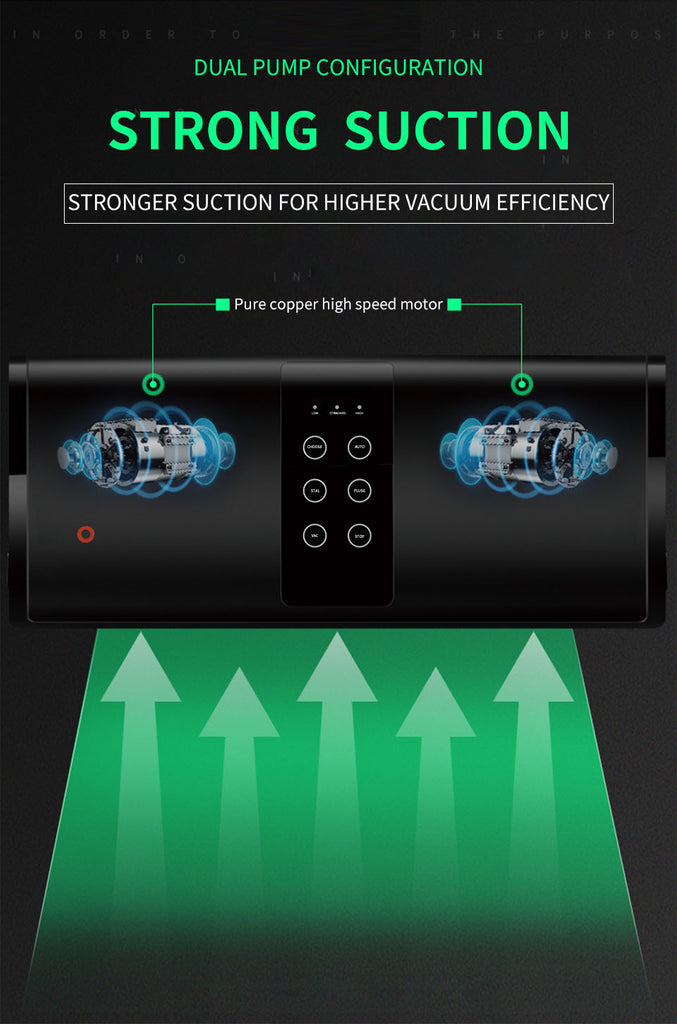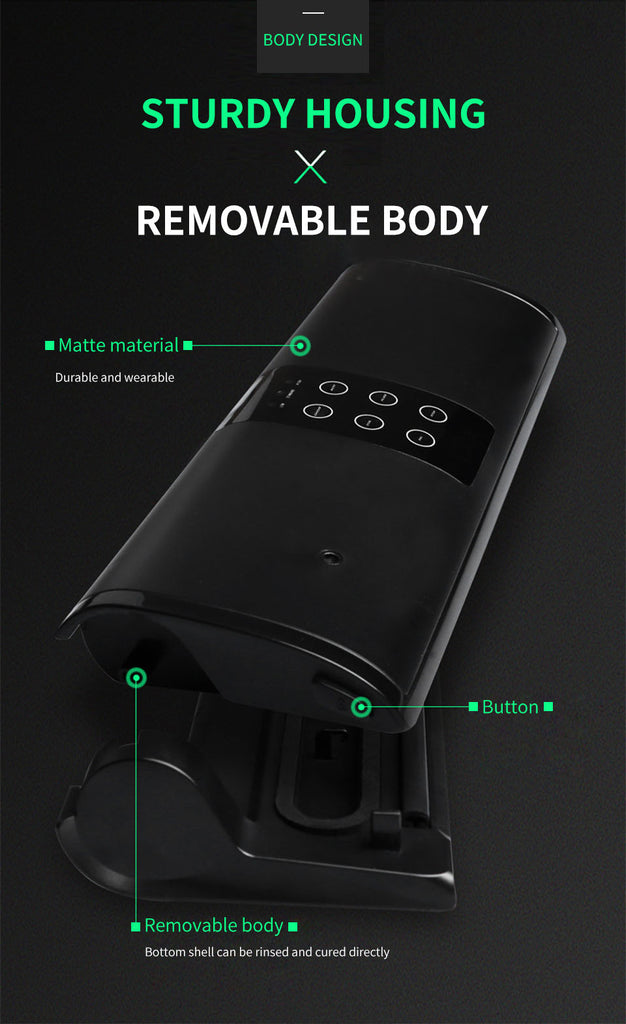 【High-quality materials】Sturdy matte ABS material shell, detachable body design, the bottom shell can be washed and maintained directly. Using high-sealing rubber, the heating wire is made of nickel-chromium wire, high temperature and heat resistance, pure copper high-speed motor, 24 hours work without burning.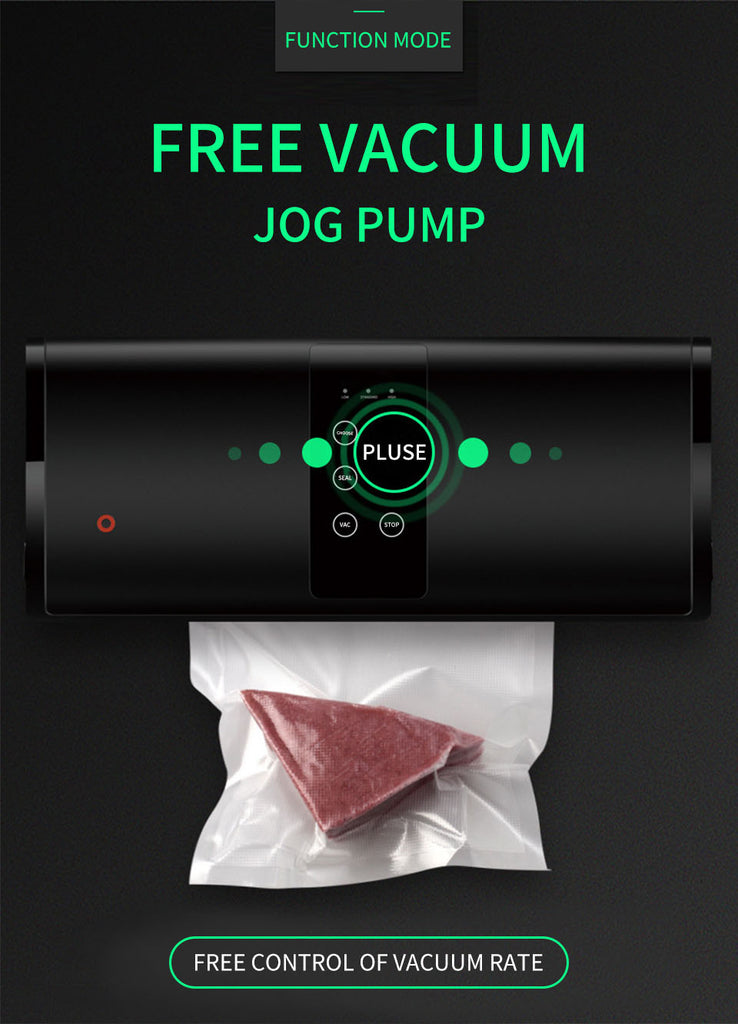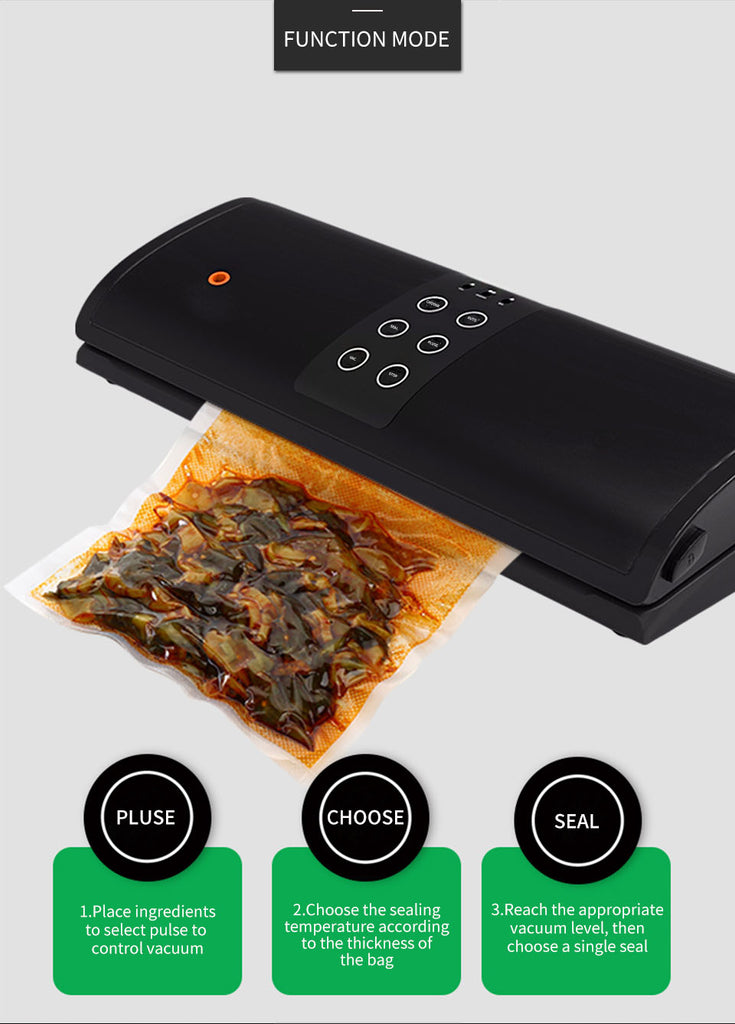 【Point pumping function】 The vacuum degree can be freely controlled when pumping softness (cakes and bread) and fluid ingredients.
【Simple design】The simple silver-plated design operation panel is clear at a glance, and the elderly and children can learn it as soon as possible.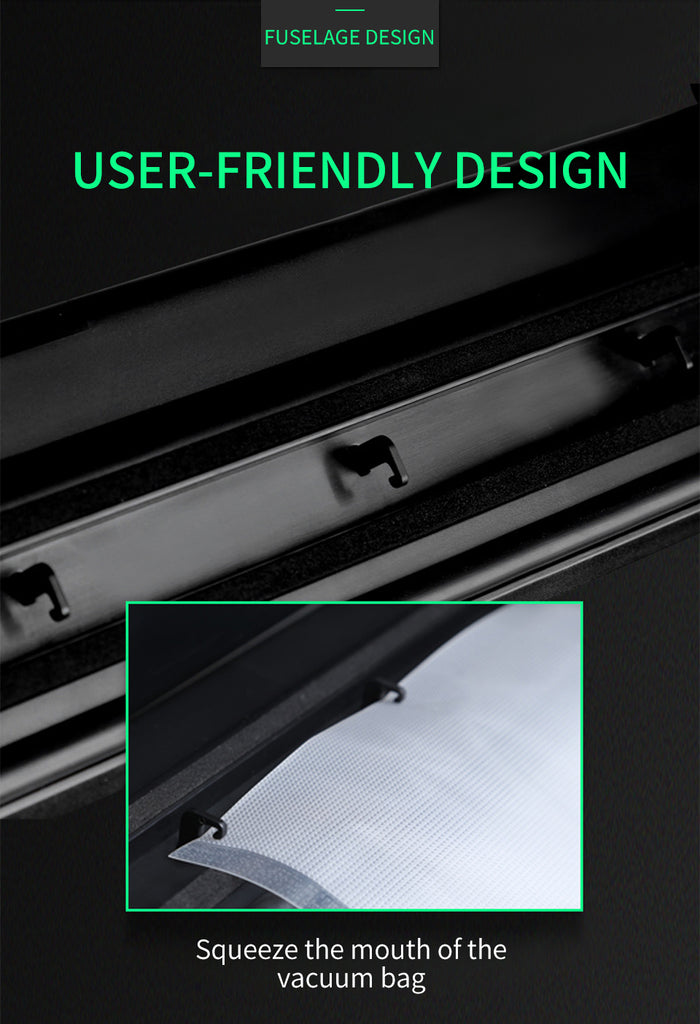 【The detachable design of the bag-pressing and arranging hook design】Eliminates the need to worry about displacement during the process of pressing the vacuum bag mouth box cover, which greatly improves the vacuum efficiency and effectiveness.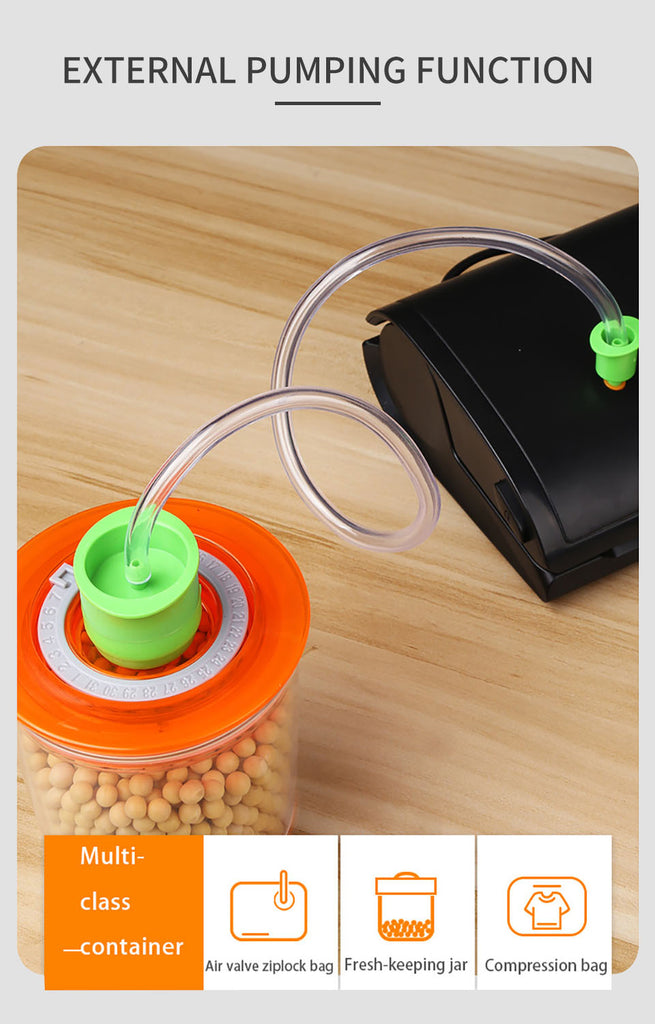 【External pumping function】 vacuum appliances such as cans and bags that can be vacuum-fitted through the external pumping tube.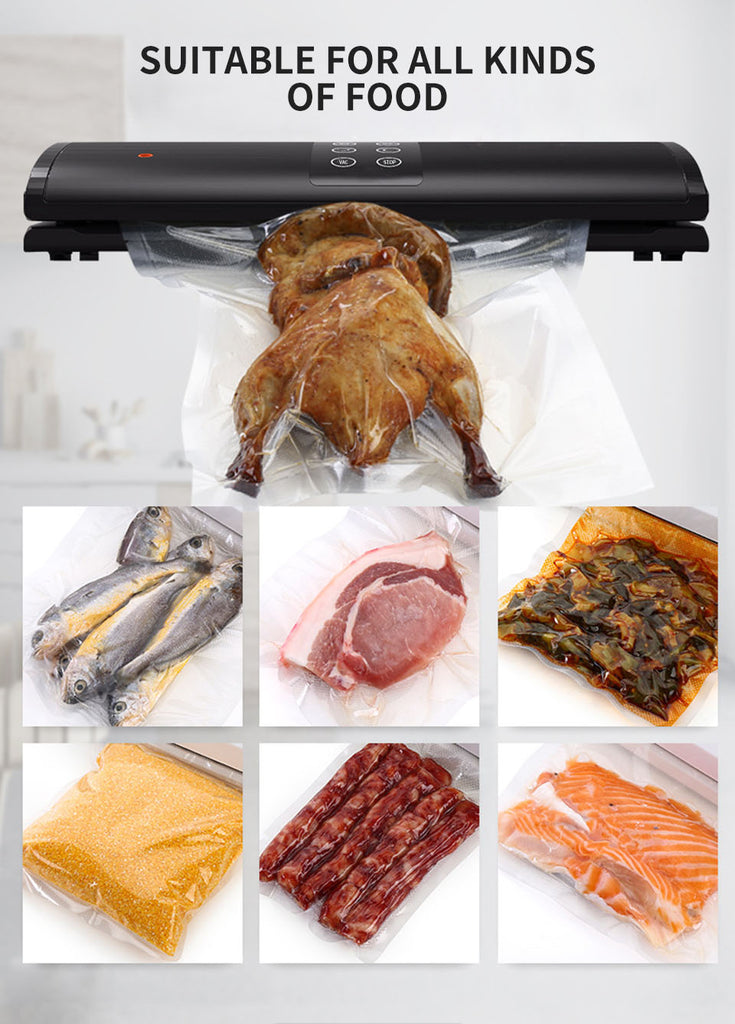 【Widen the sealing】28cm sealing width, roast duck, fish, and other relatively large vacuum items can be vacuumed.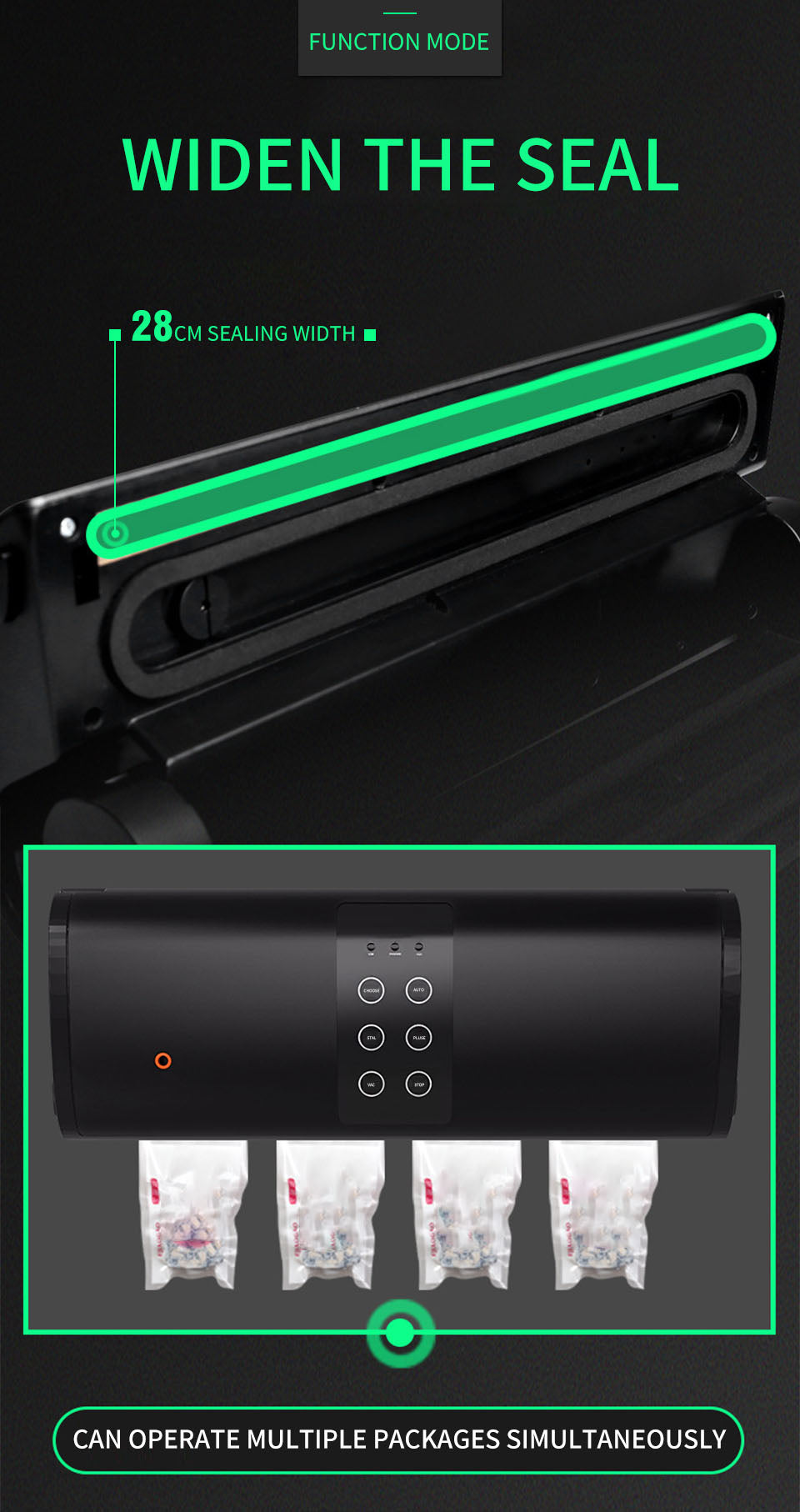 【The multi-package operation】 simultaneous vacuum sealing of multiple packages according to heating length at one time, greatly improving efficiency.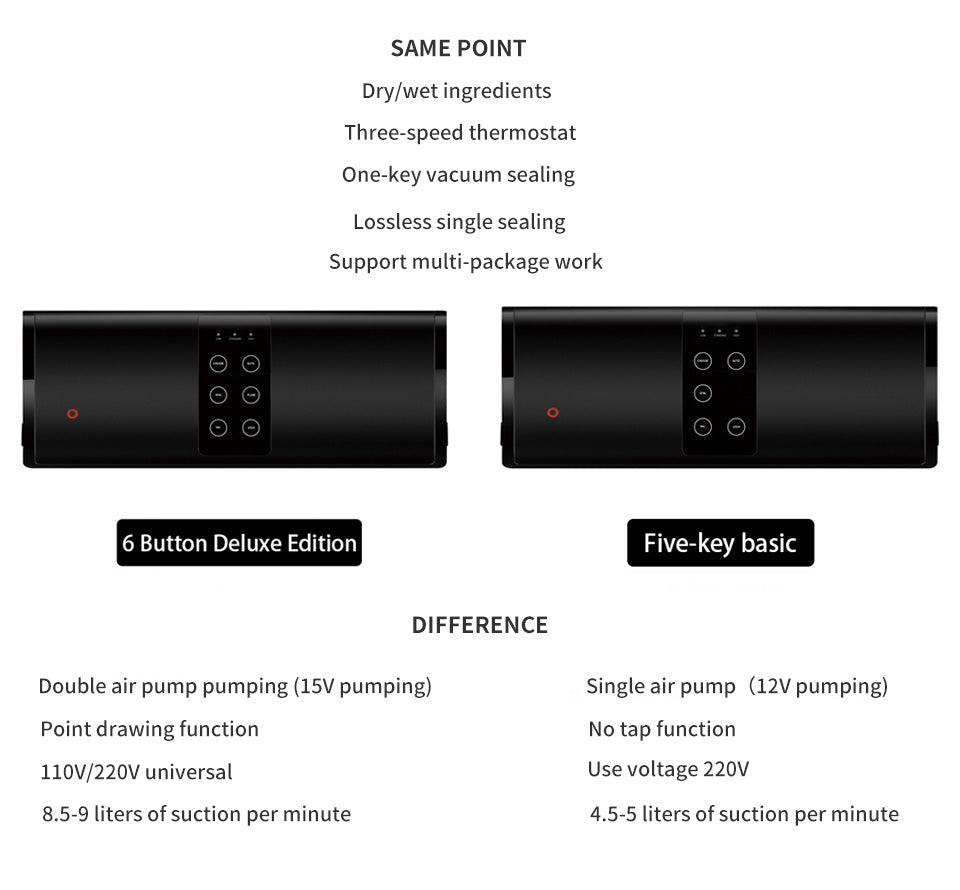 【The single-pump five-button basic model and the dual-pump 6-button luxury version are available in two styles】 The series can reach -50~-70kPa. The suction power of the 5-button base can reach 4.5-5 liters per minute, and the suction power of the 6-button luxury version minutes can reach 8.5-9 liters. In the single-sealing mode, the time required for low-temperature gear is about 5s, for standard gear is about 10s, and for high-temperature gear is about 13 seconds.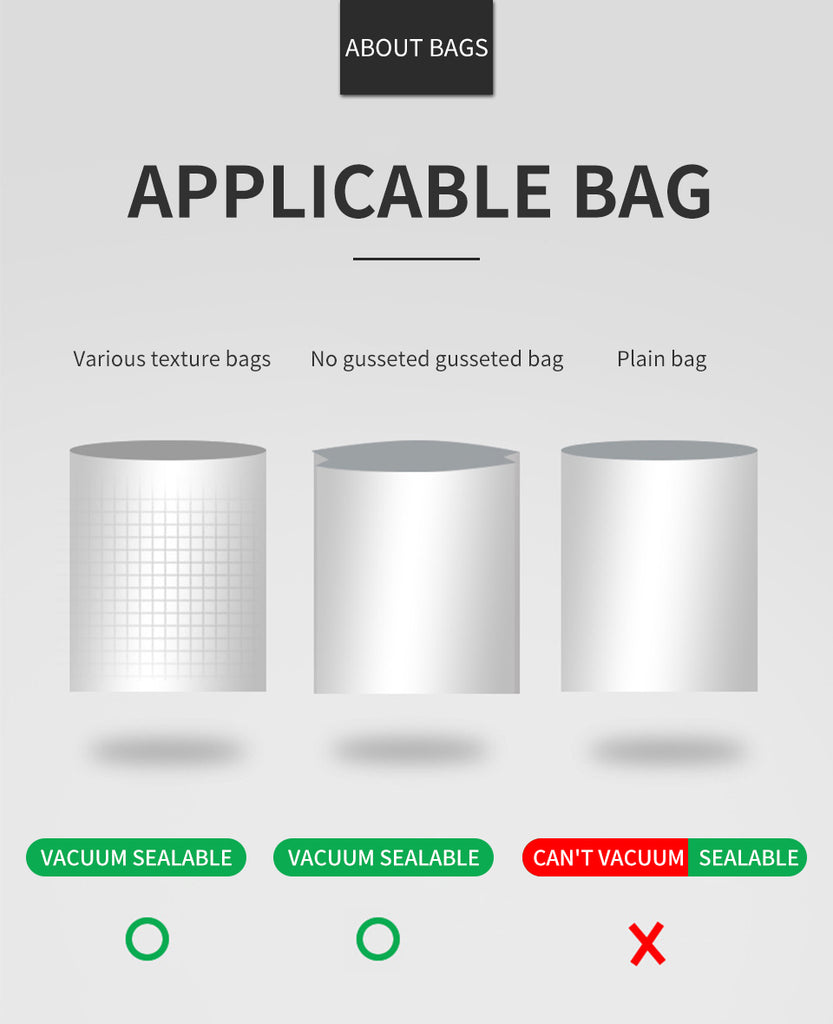 【Applicable vacuum bags】 The vacuum must be textured bags and non-grained corner bags, other types of bags only support single-sealing.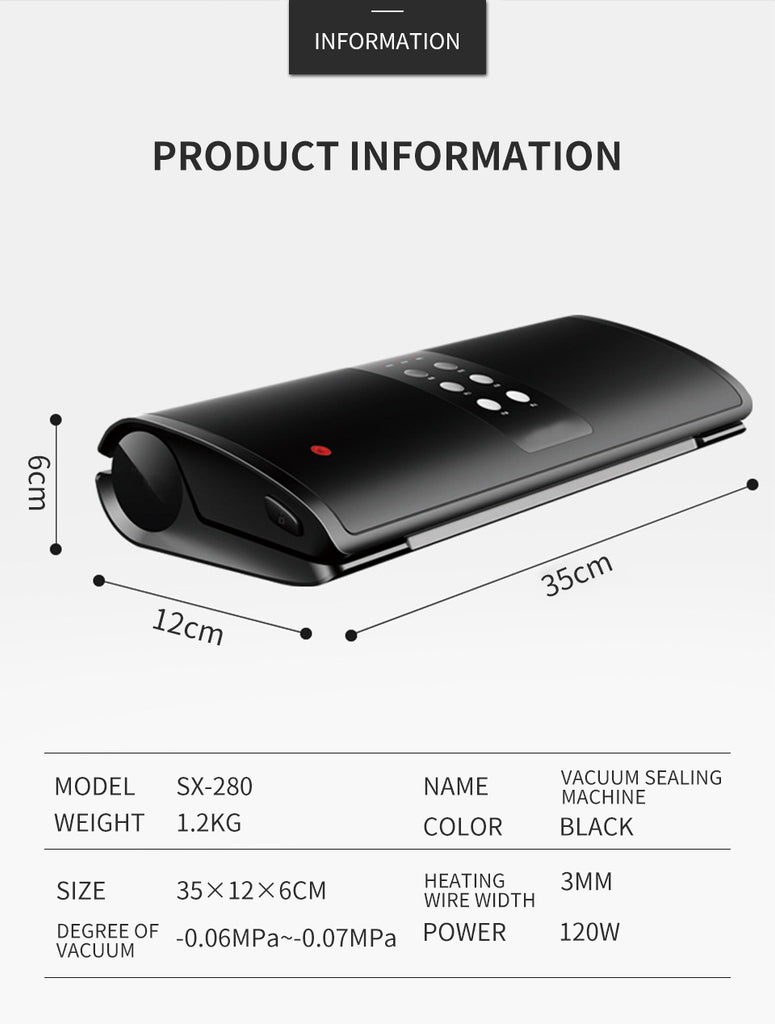 Specification:
Colour: Black
Material: ABS engineering plastic
Heating wire: nickel-chromium wire
Sealing ring: high sealing rubber
Vacuum degree: -50Kpa~-70Kpa
Sealable bag width: 11in
Power: 120W
Size: 13.77in*5.11in*2.36in
Sealing speed: about 5S for low-temperature gear, about 10S for standard gear, about 13S for high-temperature gear
Vacuum: The suction power of the button can reach 4.5-5 liters per minute. The Suction power of the 6 buttons can reach 8.5-9 liters per minute.
Package packaging:
1 x User Manual
1 x Vacuum Sealer
10 x Vacuum Bags (6.7*9.9inch)
1×External exhaust pipe
Tips:
This machine is a fully automatic vacuum sealing machine, and it can also be used for sealing alone.
The vacuum must be a textured bag or a bag with folded corners, other types of bags only support single-sealing
Fresh vegetables and fruits have active molecules that will release oxygen, and the bag will expand after vacuum. This is a natural phenomenon and has nothing to do with machines and bags. (Solution: the freezing effect is better)
Preservation principle: Several conditions for keeping food fresh are low temperature and anti-oxidation, anti-moisture, anti-bacteria, and anti-flavor. The vacuum cannot change the temperature to replace refrigeration, and it must be combined with refrigeration to achieve the effect of prolonged storage.
The third gear temperature adjustment is to control the temperature and time of the sealing. Generally, the high-temperature gear is used for sealing a little water and thicker bags. The control time, the longer the time, the higher the temperature