【Vacuum sealing to keep food fresh】The food vacuum sealing machine uses a 60kPa vacuum pump to easily suck air in and shrink the packaging bag to keep the food in a vacuum environment and make the food storage volume smaller, saving space. Multi-layer heat sealing can prevent air from entering the food and keep the freshness of fruits, nuts, meat, candies, and vegetables. Reduce food waste.
【Professional vacuum sealing system】The upgraded sealing technology adopts wide-pressure variable frequency constant temperature technology, which can work normally between 90-250v, 50-60hz voltage, and frequency, and keep the heating wire temperature consistent to improve the stability and efficiency of the sealing. The vacuum sealer can make the food preservation time 5 times longer than ordinary storage methods, thus saving time and money.
【Easy to use and clean】The sealing machine is easy to operate. The vacuum sealing machine is designed with two operating modes: "Vacuum Seal" and "Seal Only". You can operate any mode just by pressing a key. "Vacuum Seal" for 5-8 seconds or "only seal" for 3 seconds, until the red indicator light turns green. The sealing speed is 6-9 seconds, and the vacuum speed is 3.2L per minute. After the food bag is sealed, it will stop automatically, thus saving time. The seal cools down quickly, does not become hot, and has no burnt smell, which is safer for you.
【Small and light】 The vacuum sealing machine is small in size and light in weight (1.8 pounds), and it occupies a small space in your kitchen. You can pick it up with one hand and move it at will. Low vibration and low noise provide you with a quiet operating environment. The safety lock design ensures that the vacuum sealer is closed tightly during operation.
【High-quality material】The shell of the sealing machine is made of ABS engineering plastics, the sealing ring is high-sealing rubber, and the heating wire is made of wire-wound material, which is suitable for sealed bags with a maximum width of 280mm. The low-shell waterproof upgrade prevents water from entering the bottom of the machine to damage the machine. The new external drainage function design protects the machine.
【External pumping function】Vacuum lunch boxes, food storage boxes, wine bottles, and vacuum bags can be pumped outside.
【Level 5 safety protection】Our packaging machine has undergone rigorous testing, including overvoltage, Undervoltage, empty pipeline protection, inverter, and voltage identification.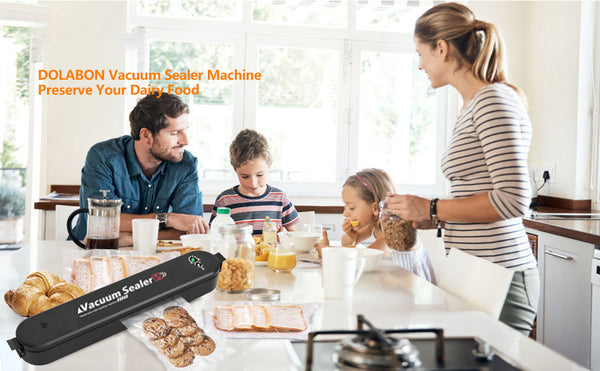 Vacuum sealing machine, automatic food sealing machine for preservation, suitable for dry and wet food with LED indicator, compact design.

Features:

-Vacuum sealer helps to extend food life
-One-button automatic operation with smart LED indicator. Vacuum packaging and sealing can be done with one click.
-Compact size and light design, easy to store. Heat and seal carefully.
-Safety lock design keeps the food sealing machine tightly closed during operation.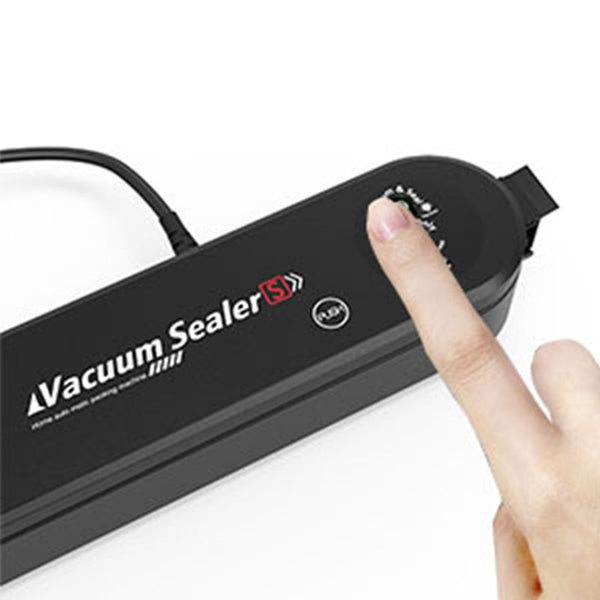 Easy Operation
One key operation. Press the vacuum seal button. When the LED turns red, the bag will automatically seal. When the LED turns green again, the process is complete.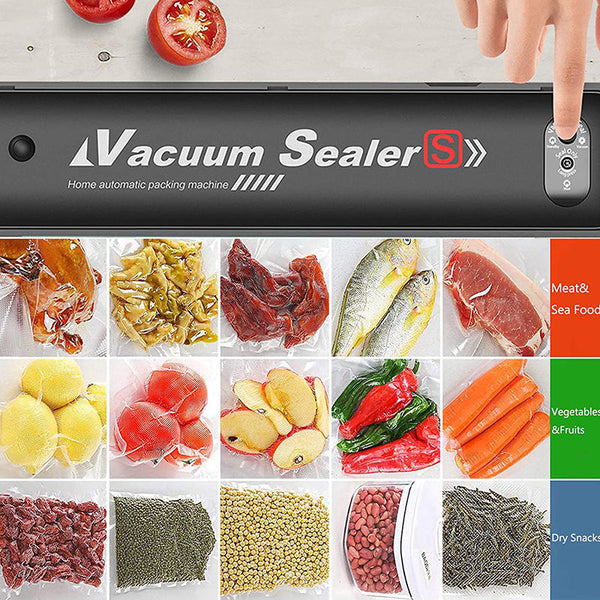 Only suitable for dry food
This vacuum sealing machine can achieve the best vacuum and sealing effect.
Powerful Suction
Using wide-voltage variable frequency constant temperature technology, it can work normally between 90-250v, 50-60hz voltage, and frequency, keeping the heating wire temperature consistent and ensuring that the bag opening will not cause air leakage and fusing due to changes in voltage and frequency.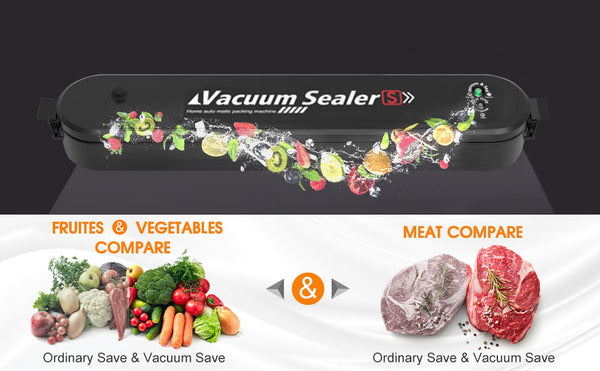 Specification:
Colour: Black
Material: ABS engineering plastic
Heating wire: wire wound
Sealing ring: high sealing rubber
Heating wire: 28cm
Vacuum degree: -60Kpa
Sealable bag width: 280mm
Power: 90w
Size: 370*75*50mm
Sealing speed: 6-9 seconds
Vacuum: 3.2L per minute
Package packaging:

1 x User Manual
1 x Vacuum Sealer
15 x Vacuum Bags (7.9*9.9inch)
Tips:

Do not overfill the bag, leave enough space at the open end of the bag so that the bag can be placed more firmly in the vacuum chamber.
Before sealing, clean and straighten the open end of the bag. Make sure that there is no residue at the opening of the bag. There should be no wrinkles or creases on the opened panel. Foreign objects or creases in the bag may cause sealing difficulties.
Do does not use a vacuum cleaner to pack sharp objects such as fish bones and hard shells. Sharp points may penetrate and tear the bag.
After each sealing or vacuum sealing, let the vacuum sealing machine stand for 1 minute.
To avoid being burned, do not touch the sealing strip while the machine is running.