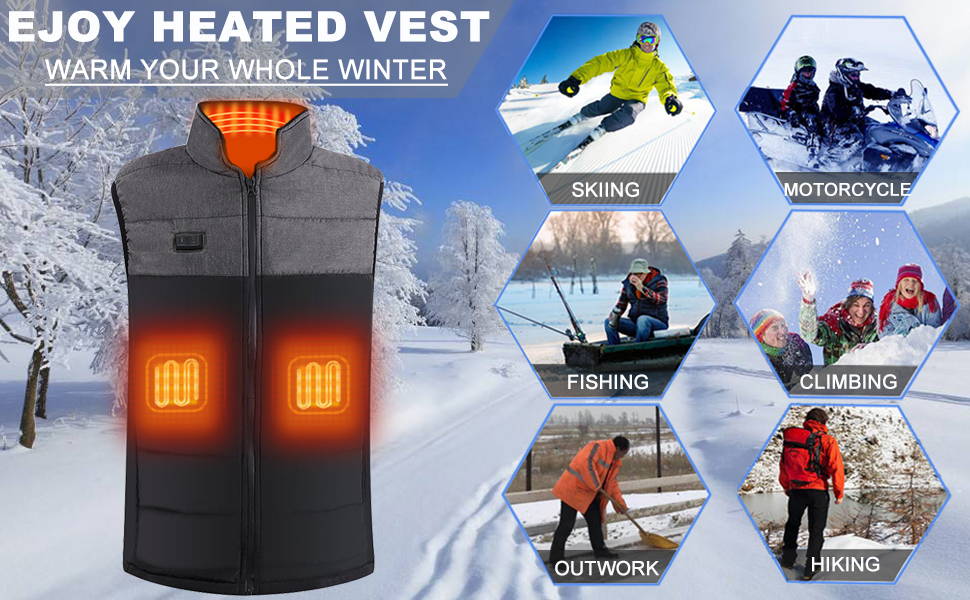 Heated Vest for Men and Women Electric Warm Heat Jacket with Dual Power Switch -- Give You A Warm Winter!
This heated vest can be widely used in various outdoor activities. It will make you feel warm quickly, and you can choose the heating area and the heating level, which is very intimate. Just a small button, it can warm you the whole winter. The heated pads can also help promote blood circulation, relief pain of muscles. Best Christmas gift for parents and families.

New Dual-Switch Design – Back & Belly Switch Can Be Pperated Separately
*New dual-switch design – back & belly switch can be operated separately
*9 different heating modes – each switch has 3 levers heating setting. High-Medium-Low
*Ejoy customized packaging – it will be a perfect gift idea. Also convenient in the next daily use
*5 sizes available – size designed according to American standards, perfect fit. From S to 2XL
*Skin friendly material – made of soft memory fabric. Water-drop proof and windproof
*Safer and high-quality carbon fiber heater – 4 heating zone (belly 2pcs, neck 1pc and the biggest heater in entail back)
*Manual measurement, please allow an error of ±2cm/±1in*

M: Height(ft): 5.2-5.6 Weight: 132-150 Ib Chest: 42.5in Length: 26in

L: Height(ft): 5.6-5.9 Weight: 150-165 Ib Chest: 44.1in Length: 26.4in
XL: Height(ft): 5.7-6.0 Weight: 165-187 Ib Chest: 45.7in Length: 26.8in
XXL:Height(ft): 5.9-6.2 Weight: 176-198 Ib Chest: 47.2in Length: 27.4in
XXXL: Height(ft): 6.0-6.4 Weight: 187-209 Ib Chest: 48.8in Length: 27.6in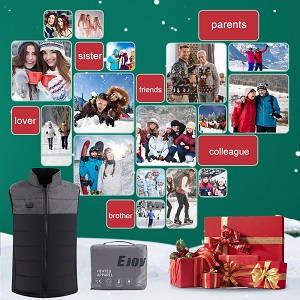 Christmas and Thanksgiving Gift
It is a perfect Gift for Family Members and Friends. The heating vest is suitable for men, women, adult and elder people. It is also a perfect gift for Birthday and coming Thanksgiving or Christmas Day, etc.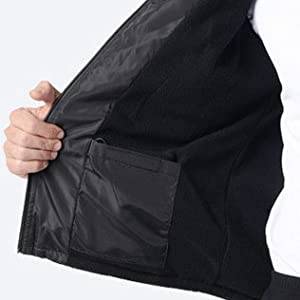 Built -in pocket can place your power bank, no need extra pack, it is more convenient. Just plug in the vest using the easy-access charging port.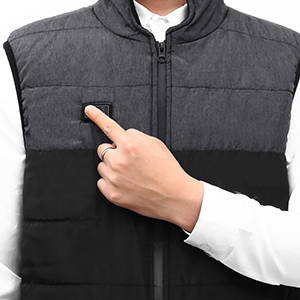 Insert the USB port to 5V/2A power bank, put the power bank in the pocket (Note:Power bank need to purchase separately);
Long pressing the switch of the vest for 3 seconds to turn it on/off;
Short pressing the switch to change the heating mode.
Fabric Name: chemical fiber blended fabric
Fabric composition: acetate fiber
Fabric content: 100%
Style: Leisure
Function: keep warm
Filler: Cotton
Collar type: V-neck
Pattern: solid color
Suitable season: autumn, winter
Applicable age: Adult
Applicable gender: Male / female
Adaptive exercise: walking
Color: Black/Red
Size: m, l, XL, XXL, XXL
Size S:Length 25.19 in; Shoulder 17.91 in; Bust 38.58 in
Size M:Length 25.59 in; Shoulder 18.30 in; Bust 40.15 in
Size L:Length 25.98 in; Shoulder 18.70 in; Bust 41.73 in
Size XL:Length 26.37 in;Shoulder 19.09 in; Bust 43.30 in
Size 2XL:Length 26.77 in;Shoulder 19.48 in; Bust 44.88 in
Size 3XL:Length 27.16 in;Shoulder 19.88 in; Bust 46.45 in